Facilities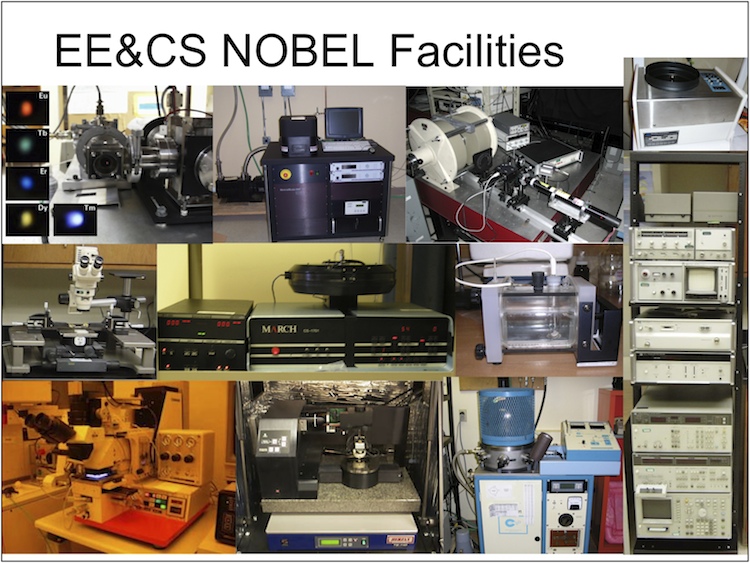 Below gives a partial list of tools, equipments and facilities used and managed largely by our group or available to us in the collaborators labs that are included in the Nanoscale and Quantum Phenomena Institute (NQPI)
A variety of spectroscopic instrumentation and fabrication tools represent the core of the research capabilities of Nano-Scale Materials, Structures, and Devices Laboratory in the School of Electrical Engineering and Computer Science at Ohio University. Our knowledgeable personnel are extensively trained in equipment operation, method development and applications. The list below provides detailed equipment description and specifications
Electrical and Magnetic Characterization
HP RF network analyzer and electrical device characterization upto 12.4GHz.
HP4145B 4-channel DC parameter analyzer (77-300K)
HP4274A Impedance (RCL) Analyzer upto 100kHz
HP4140B Quasistatic C-V analyzer and picoamp SMU.
Electrometer/High Resistance Meter, Keithley Model 6517A
Electromagnet 1.5 Tesla, Eastern Scientific
Gausmeter with probe, Keithley, Model 455
Cascade Summit 9000 Probe station, complete with microwave probes.
Various types of power supplies, amplifiers & pulse generator.
Micro & Nano Fabrication & Microscopy
RF sputtering system with three targets
DC Magnetron sputtering system with four guns.
Three pocket 6 kW electron gun evaporation system and conventional thermal evaporator
Reactive Ion Etcher March CS-1701 (compact RIE for metal/insulator/Si etch process)
Axic Benchmark 800 ICP Etcher for C4F8/SF6 based etches (Bosch process)
Axic Benchmark 800 PE-CVD system with 6 active process gases
Speedline technologies Spin Coater Model P6204
Wire bonding system West-Bond Model 7400C Series
Karl-Suss MJB3 contact Mask Aligner – 1 micrometer resolution
Sloan DekTak IIA Surface Profiler.
Electron beam lithography (JEOL JSM-6400A attached to JC Nabity NPGS 9.0 Writing System )
Atomic force microscope (Agilent 5500LS )
Hazlan Vibration Isolation System
Dagan Themal Stage and Controller
Scanning electron microscope (JEOL JSM-6400)
Amptek EDX system with dry Si Drift Detector
Analytical Microscopy and Auxiliary Tools (Provided by NQPI Colloborations)
Molecular beam epitaxy / scanning tunneling microscopy system
Low temperature scanning tunneling microscope for atomic manipulation
Optical microlithography (Karl Suss MJB3)
Rigaku X-ray powder diffractometer
Rigaku single crystal X-ray diffractometer / rotating anode
Microcantilever / optical microscope for bioadhesion measurements
Sputtering deposition system (Denton Vacuum)